Any good newsletter software provides an email creation tool in addition to common sending and analytics features. Unfortunately, even the most refined email marketing software has generally a quite poor internal email editor. Some better than others, to be sure, but since a newsletter software has to combine different tools, often the template creation part is sacrificed. Which is bad, because a professional marketing campaign requires a truly professional email design.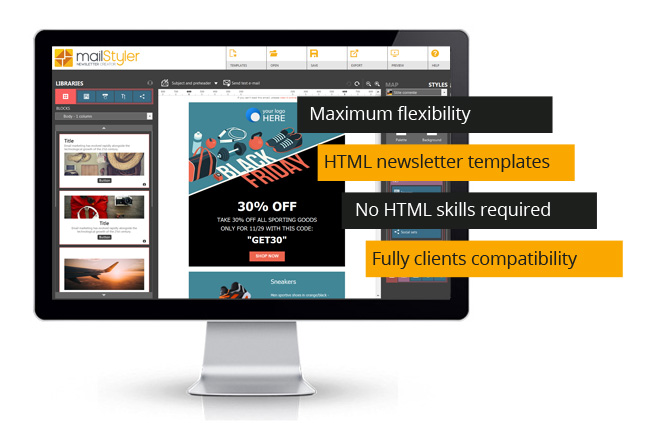 So, either you code your own HTML email from scratch — which can be quite tricky, even if you're a web designer — or you rely on a dedicated newsletter creation software like MailStyler. Among all competitors, MailStyler offers a unique combination of flexibility, easiness of use and efficacy. Building a newsletter template has never been so simple: you drag an drop any ready-made elements (text & image boxes, columns, footer, buttons etc.) onto a blank page. Then you can edit them freely, for instance changing color and font styles, stretching/cropping your images, or inverting the position of boxes. It's so easy that it's impossible to make it wrong; you can only improve your email. In the end, you will obtain a beautiful, efficient newsletter whose HTML coding has been already tested to be fully compatible with any mail clients — and, of course, quickly importable on your favourite mailing software.
Newsletter making software
Though some people think that a newsletter is an old-fashioned mean of digital marketing, it is not: on the contrary, newsletters are still an extremely powerful and engaging way to connect to your customers and readers. The point, of course, is to build the best email for your needs. This can be easily done relying on a professional newsletter making software: instead of losing time on unsuitable or generic programs (such as Microsoft Word) or getting crazy with HTML specifics, MailStyler offers you a simple and fun way to create unlimited, beautiful email templates.
How?
All you need is to choose the pre-made elements you need (among a wide choice of text and image boxes, footers, headers, buttons etc.) and drag&drop them onto our editor. This way you'll see your newsletter template being built "in real time", brick by brick. It's really that easy!
DOWNLOAD DEMOBUY MAILSTYLER PRO
Latest release: 2.7.0.100 | Release date: 28/02/2020 | Size: 111.6 MB
License agreement | How to uninstall