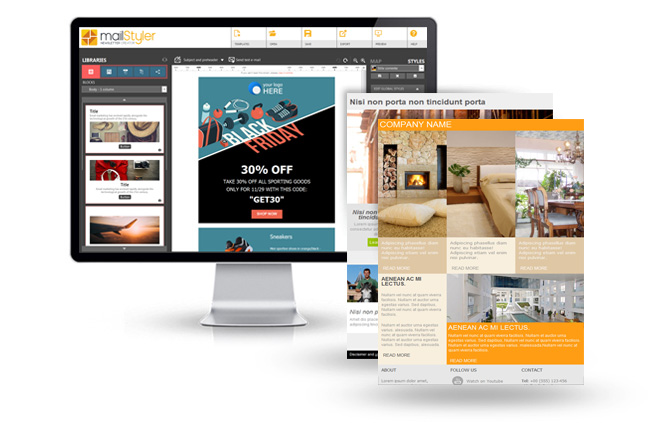 No matter what people say, HTML emails are still an amazing way to keep in touch with your customers and promote your brand. That's why it's so important to create the best HTML email message for your needs: a tailor-made, recognizable newsletter template that guarantees a perfect reading experience on every platform or mail client.
Now to craft such an HTML email you obviously need to know how to code: and in particular, how to code this particular type of digital object. And it can be tricky.
In fact, the best practices of HTML for newsletters are quite different if compared with normal web design. For instance, it's recommended to keep the code as simple as possible and use only inline CSS; to structure your content along tables (yep, tables) and avoid any positioned <div> tags (Gmail removes them); etc.
Luckily there's an easy solution both for the expert web designer and the absolute beginner: MailStyler.
Our WYSIWYG newsletter creator will let you compose stunning HTML emails without coding: we provide an extensive choice of ready-made blocks and elements (content boxes, footers, headers, all differently styled), and all you need is to choose the ones you like and drag and drop them. Thus building your own newsletter step by step: and once it's finished, you'll be able to export it and use it on your favorite client.
Moreover — and this is the best part — since all these pre-designed blocks have been thoroughly composed in perfect HTML, the final result will always be a masterfully coded newsletter.
Which means that it will look great and rendered the same way no matter where it 's opened: be it a webmail like Gmail or Hotmail, a client like Thunderbird or Outlook, or your favorite tablet and smartphone app.
DOWNLOAD DEMOBUY MAILSTYLER PRO
Latest release: 2.7.0.100 | Release date: 28/02/2020 | Size: 111.6 MB
License agreement | How to uninstall