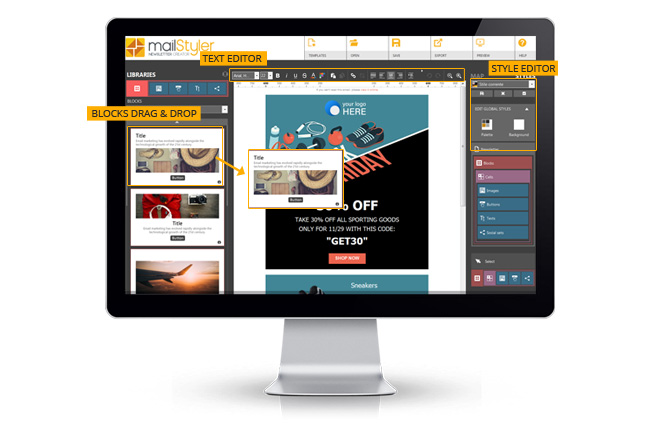 An HTML email template is definitely the best design choice for a professional email marketing campaign. Not only it ensures a better readability and a nicer information flow: HTML also allows you to track your recipients' reactions (openings, clicks etc).
Now coding from scratch a good newsletter template can be tricky, especially if you haven't a thorough knowledge of both HTML and CSS: a bad code can lead to rendering problems with the most popular mail clients (Gmail, Hotmail, Outlook, Thunderbird) and also delivery issues.
The good news is that with MailStyler you can compose your own template without a single line of code, and still get an amazing result — the ideal layout for your content.
MailStyler makes the newsletter editing process as easy as pie: pick up the ready-made elements (columns, frames, buttons, text boxes…) you need and simply drag and drop them to build your own template in seconds.
It's really that simple: and as all the pre-designed blocks have been carefully coded by a team of expert web designers, the resulting HTML template will be fully compatible with any mail clients.
Stop looking for generic template packs and start creating your own, branded design.
DOWNLOAD DEMOBUY MAILSTYLER PRO
Latest release: 2.7.0.100 | Release date: 28/02/2020 | Size: 111.6 MB
License agreement | How to uninstall