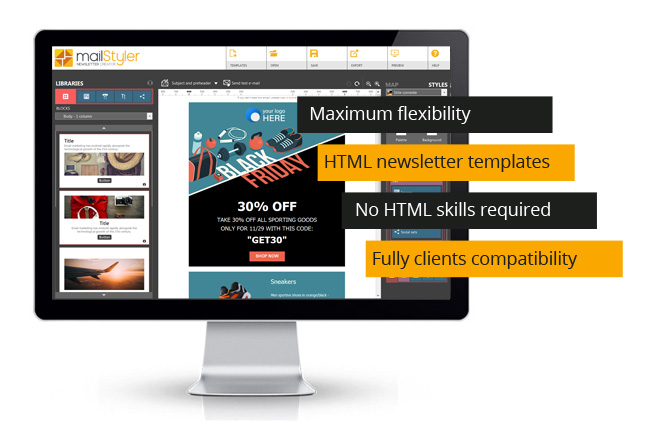 Ever tried to nail the perfect newsletter with a drag and drop email template builder? It can improve a lot your newsletter campaign, saving you time and hassle as well.
Keeping in touch with your clients is paramount, either to promote your products or maintain the contacts you have: the more your email message will reach its recipients with clarity, the more your communication will be valuable.
A botched design or unreadable template can spoil your newsletter and ruin the relationship you built with your clients: it's very important to use a very simple and clear, yet powerful design.
You can achieve that with modern technologies as HTML 5 and CSS 3, but you have to know how they work to use them appropriately. Or you can simply use a drag and drop email template builder, getting an awesome design in seconds without generating improper code.
MailStyler is here right for that: you can pick and choose one of the many pre-made blocks (text, header, call to action, etc.), drag & drop and organize them as you see fit, in just a few clicks. No more hard coding, no more templates that render badly on different devices: it just works.
You can see a preview of your newsletter and if something doesn't satisfy you, you can always take a step back and drag and drop another block, until you create the perfect template for your needs.

DOWNLOAD DEMOBUY MAILSTYLER PRO
Latest release: 2.7.0.100 | Release date: 28/02/2020 | Size: 111.6 MB
License agreement | How to uninstall