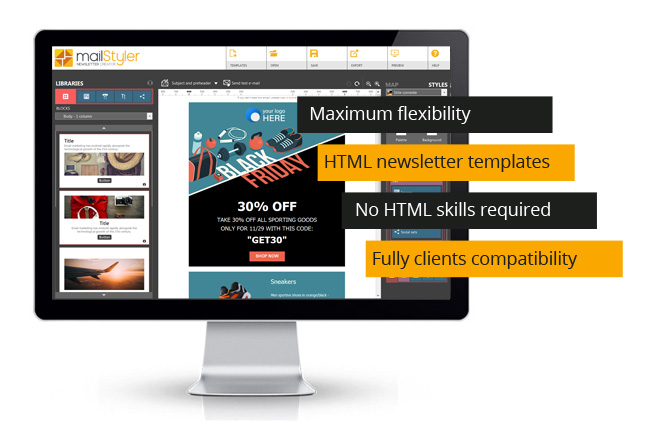 When it comes to build an email template or set up your email marketing campaign, relying on a professional newsletter maker is definitely a huge help.
In particular, a good newsletter creator should:
be intuitive and extremely easy to use;
not require any knowledge of HTML/CSS, so to be helpful also to total beginners;
save you time, making the whole newsletter creation process quick and effective;
provide handy pre-made elements to be assembled with simple drag and drops and clicks;
give you wide editing possibilities to add freely your images and content in order to make a truly personalized template;
ensure that all created emails will be lightweight and correctly displayed on all clients and devices;
MailStyler, the best newsletter builder around, fulfills all these requirements.
With our software you'll be able to craft an amazing email in seconds, simply dragging and dropping all the elements you need on a blank page. And even more importantly, being certain that your layout will always render perfectly on any mail clients.
With MailStyler you'll be free to unleash your creativity without thinking about annoying technical aspects such as HTML coding: our software takes care of them, while you enjoy building your own email design.
DOWNLOAD DEMOBUY MAILSTYLER PRO
Latest release: 2.7.0.100 | Release date: 28/02/2020 | Size: 111.6 MB
License agreement | How to uninstall