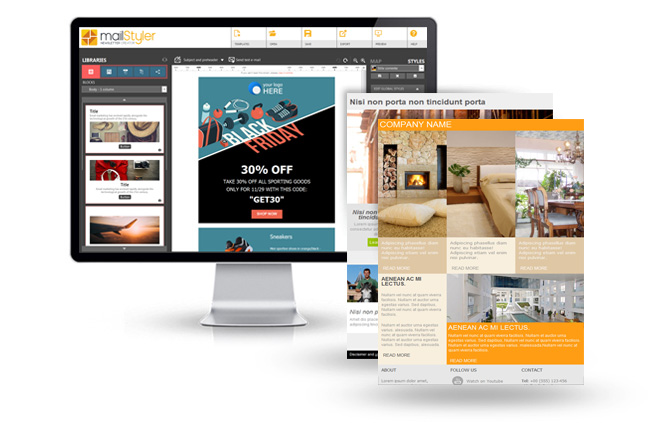 Few things are as important as a good newsletter template when it comes to email marketing. And it's not only a matter of aesthetics: a clear, lightweight and customized design is essential to entice the reader and convey the intended call to action — that is, to make the most of your mailing, be it a news message or a commercial offer.
But there's more. Only a professional HTML template can ensure that your newsletter will be displayed the same way on all most popular mail clients and webmails; plus, thanks to HTML it's possible to track all recipients' actions like the open rate, the click-through rate etc.
So how to get a proper HTML newsletter template? There are basically two options: either to buy (or get free) a ready-made one, or to craft your own.
Concerning the first choice, the major downside is that no matter how good the template is, it will be never unique and completely tailor-made for your brand. It will surely fit the general category of your business or activity, but the truth is that a fully personalized layout is completely different kind of story — and a huge hit in terms of brand awareness.
But building an email template from scratch can be very tough, especially for beginners or people who don't have any technical skills. Luckily, here comes MailStyler: our smart newsletter editor will help you create your own template in a breeze, with no need of HTML/CSS coding.
Taking advantage of MailStyler's WYSIWYG interface you'll be able to compose a layout from a wide series of standard blocks and cells (already tested to be compatible with all mail clients) and customize it as you wish. Thus getting the best design for your email campaign: yours and yours only.
DOWNLOAD DEMOBUY MAILSTYLER PRO
Latest release: 2.7.0.100 | Release date: 28/02/2020 | Size: 111.6 MB
License agreement | How to uninstall