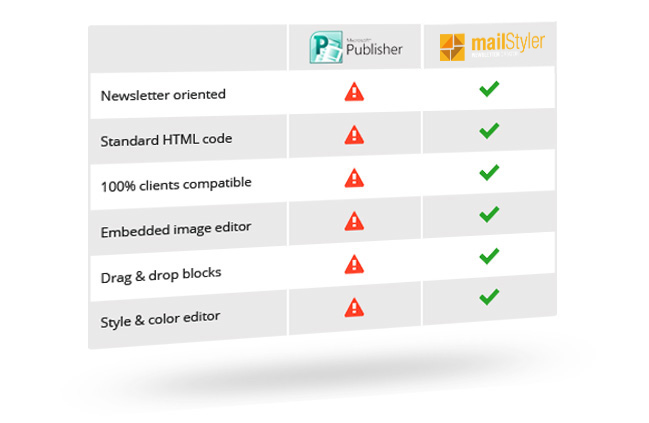 It's definitely better not to try and create your newsletter template using Microsoft Publisher.
The main problem is that Publisher — just like Word — can produce an impure and messy HTML code. This will generate both rendering problems (your email could appear diverse or even wrong on different clients) and deliverability issues (as a proper and light code is essential for a newsletter to get delivered).
Moreover, Microsoft Publisher is not primarily built for newsletter editing — which means that the whole creation process can be problematic, or require good design skills.
To avoid all that once for all, the best idea is to get a completely dedicated tool like MailStyler.
Our unique newsletter creator makes the composition of an email template an incredibly simple task: you simply need to drag&drop a wide range of ready-made elements on a WYSIWYG interface, and personalize them as you wish. You can choose among different types of general layouts (with one or more columns), add images and buttons, customize cells and fonts and much more — all with some simple clicks.
In fact, the process of email creation is so streamlined that you can literally build your email template in seconds, and get a truly professional result. But there's more: we guarantee that the resulting HTML code will be 100% compatible with all mail clients and won't cause any delivery problem whatsoever.
DOWNLOAD DEMOBUY MAILSTYLER PRO
Latest release: 2.7.0.100 | Release date: 28/02/2020 | Size: 111.6 MB
License agreement | How to uninstall