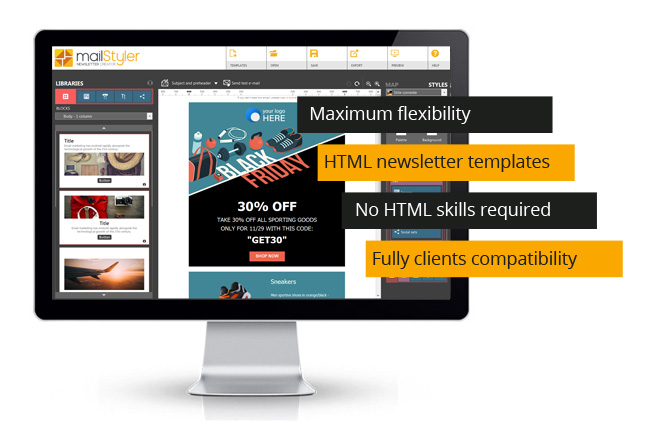 When it comes to send mass emails, it's imperative to get an effective newsletter program that can support you in all the phases of the process: layout creation, spam test, sending and analytics.
Unfortunately, the common email editors provided by these newsletter programs or email marketing platforms have some limits in terms of flexibility and design. That is, it's pretty hard to draw a proper email template with them.
This "weak point" can be eluded if you code your own newsletter directly, using HTML: but this of course requires advanced programming skills and quite a lot of time and effort. So the best alternative for beginners (and for professionals as well) is to get a professional newsletter editor — like MailStyler.
MailStyler allows you to compose amazing newsletter templates in a few clicks, with a simple series of drag and drops: its WYSIWYG interface ensures a quick and intuitive process, while a wide choice of pre-made elements (blocks, boxes, buttons etc.) gives you unlimited design possibilities. So that you can create your truly own, tailor-made email layout without writing a single line of HTML code.
Moreover, compared to similar web-based applications, MailStyler is much more powerful: being a desktop program it can offer more options, more stability and services — and it can be used also offline.
DOWNLOAD DEMOBUY MAILSTYLER PRO
Latest release: 2.7.0.100 | Release date: 28/02/2020 | Size: 111.6 MB
License agreement | How to uninstall