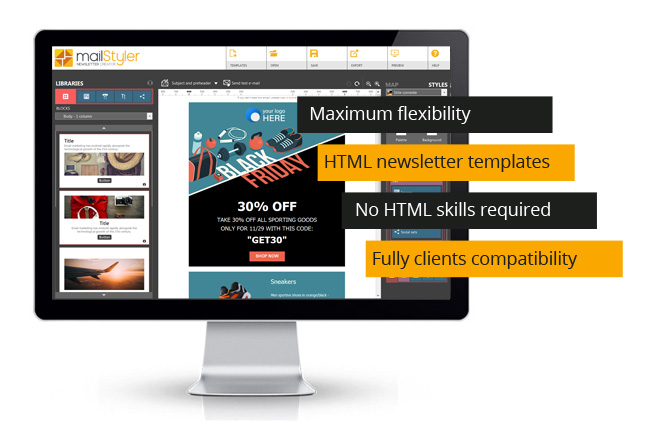 Making a newsletter is still the easiest and most cost-effective way to communicate with your clients and readers. Granted that it's carefully crafted, of course: unfortunately there are way too many examples of awful email templates out there on the internet…
Indeed, to make a proper newsletter — a newsletter that obeys to all web design principles and whose HTML code is absolutely neat — is very important for two reasons.
First, to provide your recipients an enjoyable reading experience: a newsletter should make the most of your content, and look perfect on any mail clients or device (Gmail, Outlook, iPhone Apple Mail…).
Second, to help your email being actually delivered: a lightweight, well written HTML is essential to avoid any sending problem and get correctly to all inboxes.
So how to give a professional look to your email without effort?
With MailStyler, it's insanely easy.
Our software will let you forget once for all all the annoying technical side of newsletter creating: no coding knowledge is required, and you'll be able to compose your email layout with a series of drag and drops. Choose an element, drag it on the page, edit it like you wish: it's really all that simple.
And as all our pre-made blocks have been created by professional designers — in the cleanest HTML — the final result will be a newsletter compatible with all mail clients and webmails. To ensure the maximum readability on every device.
DOWNLOAD DEMOBUY MAILSTYLER PRO
Latest release: 2.7.0.100 | Release date: 28/02/2020 | Size: 111.6 MB
License agreement | How to uninstall