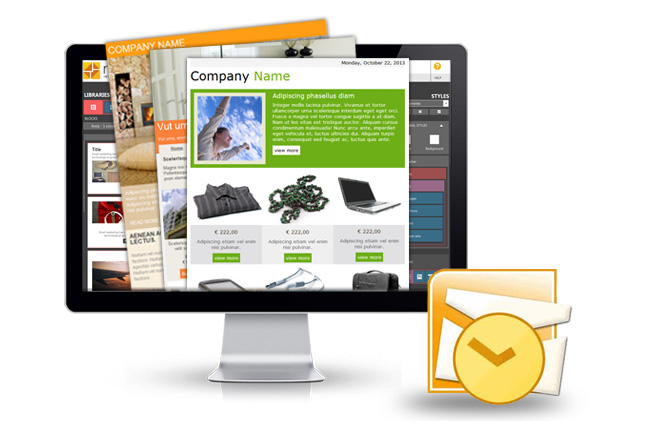 Creating an email template for Outlook is a good idea to save time when it comes to newsletters or recurrent messages (e.g. a compliments letter, an announcement, a marketing note): instead of making the very same email from scratch every time, you have a saved layout that can be filled up with new information.
Of course it's possible to build your own template on Outlook itself, but as it's a rather limited tool from this point of view — being a client and not an email editor — the results are generally very, very flat.
In particular it will be quite hard to manage images, columns and all the other aspects that usually make the difference: trying to be "creative" with Outlook can lead to pretty cheap emails…
So if you want to build something more appealing, it's best to rely on a professional newsletter creator.
MailStyler offers you a wide range of beautifully pre-made blocks and boxes to be assembled with a simple series of drag and drops. It's impossible to make it wrong: even if you don't know anything about email design, your newsletter will always look amazing.
Moreover, MailStyler guarantees a perfect HTML output. While building an email with Outlook can generate a bad source code that will render poorly on some mail clients, all newsletters created with MailStyler will be perfectly readable on any devices. All this, without writing a single line of code.
Once you have created your newsletter template, you can export it with one click and then import it directly on Outlook — where you'll be able to modify text and images as you wish, and send it to your users.
It's really that simple and effective: try it now.
DOWNLOAD DEMOBUY MAILSTYLER PRO
Latest release: 2.7.0.100 | Release date: 28/02/2020 | Size: 111.6 MB
License agreement | How to uninstall