It's surely possible to create your newsletter using Microsoft Word. And at first sight it looks pretty easy: you create a new document, click on the Page Layout tab, select the number of columns you want, start entering your content, add an image… Etc, etc.
But it's not quite that easy, to tell the truth. And not recommendable as well. In fact, there are two main reasons why it's best not using Microsoft Word to compose a newsletter.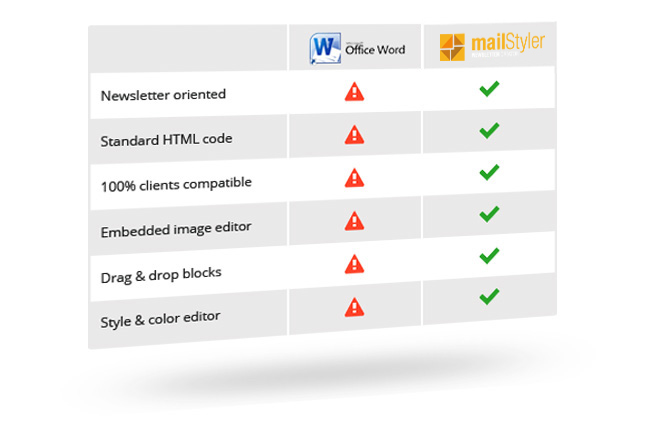 First of all, Word was not conceived as a newsletter creator. It's an amazing word processor and it surely is very flexible — but it will always be a non-dedicated program. Which means: quite a lot of effort to compose even the simplest newsletter, and a limited set of design tools.
Second — and even more important — Word can add non-standard coding to the basic HTML of your newsletter. And this will probably trigger some rendering problems for your readers, especially if they use a client other than Microsoft Outlook. It's a delicate issue, because good newsletter design implies some peculiar HTML practices and a thoroughly neat code to be correctly displayed — and correctly delivered as well.
So in order to get a top-notch result and make sure that your email is really effective, easy to deliver (and, well, beautiful), you definitely need a true newsletter creator: MailStyler.
With MailStyler you'll be able to build amazing templates in minutes, with a simple series of drag and drops: and as all basic blocks have been created by professional web designers, the final result will be compatible with any mail clients. Start now and give your newsletter design a fresh start.
DOWNLOAD DEMOBUY MAILSTYLER PRO
Latest release: 2.8.0.100 | Release date: 03/07/2020 | Size: 111.6 MB
License agreement | How to uninstall