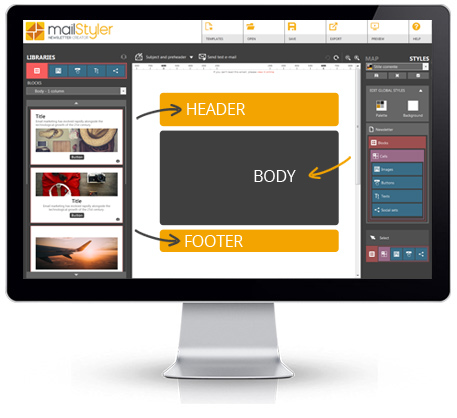 One of the most demanding tasks in any email marketing campaign is to create a proper email template. Matter of fact, the general requirements for anyone who wants to build a template are great HTML/CSS skills (essential to make the template readable on any devices and clients); a thorough knowledge of web design principles (to ensure a perfect flow of content); and of course a good amount of creativity (to make it look beautiful and original).
Too many times we've seen poor newsletters coming from improvised designers, completely unaware of what a good email template should be. So if you really want your email to be effective, either you hire a professional, or you learn by yourself. The first choice it's expensive, the second takes a lot of time.
But there's a third choice that both saves time and money: you can use MailStyler.
MailStyler is a 100% WYSIWYG email template creator, built to help you make the most of your ideas and compose amazing newsletters without writing a single line of code.
It's so intuitive and powerful that even a beginner can immediately produce beautiful layouts, simply dragging and dropping our pre-made elements. You'll be building your email literally brick by brick, adding blocks and customize them as you wish: it takes minutes, it's easy — and fun as well.
Get your newsletter a fresh start. Try MailStyler now.
DOWNLOAD DEMOBUY MAILSTYLER PRO
Latest release: 2.7.0.100 | Release date: 28/02/2020 | Size: 111.6 MB
License agreement | How to uninstall