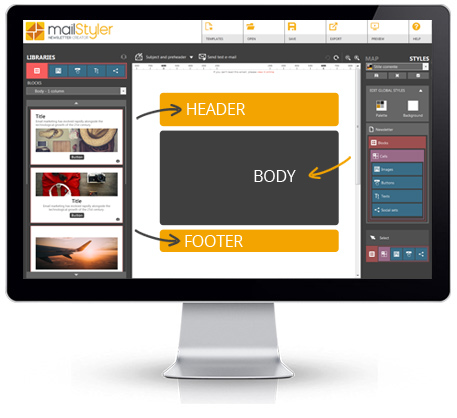 It's extremely important to understand the right newsletter format to build an effective email marketing campaign. That is to say, you should build your newsletter layout according both to HTML best practices (avoiding PDFs or other follies) and your personal needs — what's really relevant for your brand.
Not all email templates are created equal, as we love to say: you must build your truly own.
And here comes trouble.
In fact, crafting a quality HTML newsletter format is a tricky matter even for expert coders: in particular because it's very hard to ensure a proper rendering on any webmails or email clients.
Hence designers go crazy testing templates on dozens of them, from all Outlook's versions to Gmail, Yahoo, AOL etc. This effort of balancing a lightweight, readable design with brand effectiveness can be exhausting.
Luckily there's an easy way out: MailStyler.
Our newsletter builder offers a completely different approach: a WYSIWYG email editor where you simply drag and drop pre-made elements such as headers, footers, text boxes, buttons etc. thus creating your email template step by step, without coding at all.
And as all these pre-designed blocks have been created by experts to maximize their rendering on any device, you won't even need to worry about this aspect anymore. The final newsletter will simply look amazing no matter how you combine the elements, and no matter where your recipients open it.
Moreover, using MailStyler is extremely easy and, well, also fun.
You can enjoy building unlimited email templates (ready to be imported and used on your favorite software) taking advantage of a widest choice of basic elements and many editing possibilities.
Give a fresh start to your newsletter design. Start using MailStyler now.
DOWNLOAD DEMOBUY MAILSTYLER PRO
Latest release: 2.8.0.100 | Release date: 03/07/2020 | Size: 111.6 MB
License agreement | How to uninstall