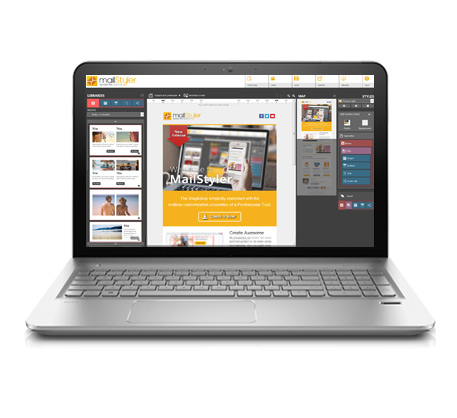 Are you looking for a program to create your newsletter online? Are you sure this is actually a good idea?
Of course, you will find a lot of online email solutions, some little known and some even very famous, but all of them require a browser and an internet connection which are limited in resources and memory; this is why you may face unexpected crashes, very slow processing and very limited image managing systems. Sometimes you might also need some external program, like Photoshop and others, to resize and optimize you images.
Such a waste of time and energy! Why are you going to complicate your job?
Often, a software running directly on your computer is the best solution when you need to create a newsletter. You can work on your project whenever and wherever you want, even if you don't have an Internet connection, and without fear of slowdowns due to a overload server. Uploading images or modifying your templates is not going to slow down your connection and you don't run the risk of improvvise crash while working.
Are you still doubtful? Try MailStyler!
MailStyler is the world's easiest-to-use newsletter creation software: it lets you build perfect email templates with a simple series of drag&drops, choosing between a great palette of colors and backgrounds and without writing a single line of html code. In fact MailStyler automatically writes the correct inline css email code for you.
As it is an offline service does not suffer from instability, slowness and incompatibility as other online systems on the web and it.
It manages images in an absolutely unique way: pictures can be cropped and resized in real time, directly on your newsletter and it automatically optimizes them for you, allowing perfect results every time.
So…What are you waiting for?! Start now to create and send your beautiful newsletters!