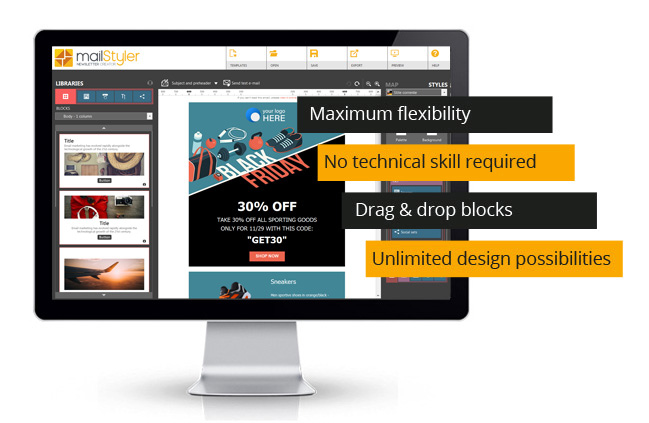 Getting a dedicated newsletter editor for your email campaign is essential if you want to obtain truly professional results.
Unfortunately, many marketers still try to craft their own newsletter using a generic editor like Microsoft Word or Publisher, or they build them directly into a mail client. This can both harm its rendering on different clients and its deliverability, since the resulting code will hardly be neat and properly written. Not to mention the very limited design possibilities that such programs offer.
Instead, a proper newsletter editor like MailStyler will make the whole process of email creation easier and more effective. How?
First of all, MailStyler offers you a broad choice of pre-designed HTML elements, all that you need to build your own template: text and images boxes (with different numbers of columns), buttons, footers, headers, etc. You'll be able to import, stretch and crop images as well as customizing styles and colors. Anything you can possibly imagine to make your truly own email layout, it's there.
Second, MailStyler is amazingly simple: no coding knowledge is required; you simply drag and drop the elements you need and build your newsletter freely onto a WYSIWYG page.
And third, our newsletter editor guarantees 100% compatible outputs. Meaning that any template created will render perfectly on all major email clients and webmails: so there's no need to carry out tests.
You'll be surprised by how fun it is. Try it now.
DOWNLOAD DEMOBUY MAILSTYLER PRO
Latest release: 2.7.0.100 | Release date: 28/02/2020 | Size: 111.6 MB
License agreement | How to uninstall