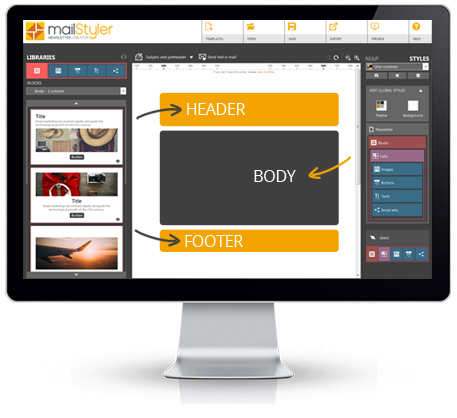 Create and edit an email template can be pretty tricky if you're not a coder. In fact, to build a lightweight and efficient newsletter template requires advanced HTML skills: only a clean code can guarantee a perfect rendering on any device and a good deliverability too.
That's why many people rely on ready-made templates found on the web. And while there can surely be very good ones (especially if you're willing to pay), a newsletter layout built and edited from scratch allows to have a much bigger control on the whole design — and in particular, a brand-oriented final result. Because it's your and yours only.
Luckily, using MailStyler you can do that without writing a single line of HTML.
Our amazing email template editor will let you compose easily a layout just dragging and dropping all elements such as content boxes or columns, and then personalizing them as you wish.
The result? An awesome newsletter design which is really tailor-made on your needs, fully compatible with all email clients and webmails — mobile applications included.
DOWNLOAD DEMOBUY MAILSTYLER PRO
Latest release: 2.7.0.100 | Release date: 28/02/2020 | Size: 111.6 MB
License agreement | How to uninstall