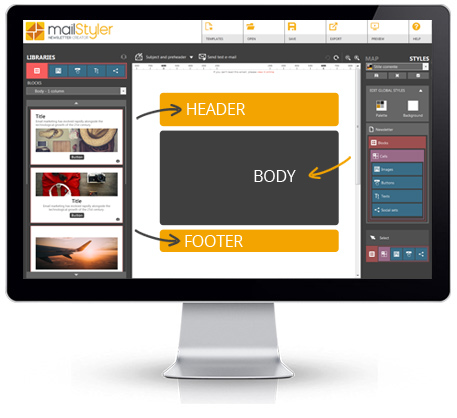 Where to begin when it comes to create a newsletter layout? What technical requirements are needed? And how to build it to better organize the whole content and make the whole structure both good-looking and effective?
These are common questions, especially among beginners. Truth to be told, the art of making a proper email layout is rather tricky —you must have a first-class knowledge of HTML coding and excellent design skills.
Luckily, now there's an alternative: MailStyler, the best email template builder around.
With MailStyler, creating a newsletter layout is an effortless task: all basic elements are already at your disposal, and all you need to is to drag and drop them in the WYSIWYG editor.
Here's a sample of a newsletter that can be created with MailStyler in one minute:
First of all drag and drop a header onto the blank page. This is where you put the title of your newsletter or the short description of your offer.
Then it's time for the body part: choose among the various pre-made boxes according to the number of columns you need, the type of balance between images and text you prefer, and drag and drop it too. Then you'll be able to edit them freely, adding your own pics and texts. Always remember to put the most important information first!
Now you would probably like to add the call to action — say, the button linked to the landing page you want to redirect readers. Common examples of call to actions are "Read more", "Buy now", etc. Notice that MailStyler automatically creates the button in the right contrasting color, in order to make it standout.
Finally you can add — with the usual drag&drop move — the footer. MailStyler provides different ready-made types of footers where to put your social media contacts or your unsubscribe link.
And that's it.
Now the final template is ready to be imported in your favourite mail client or software and used for your newsletter campaign. And most of all, you'll be sure that it will always look perfect on no matter what device is opened.
DOWNLOAD DEMOBUY MAILSTYLER PRO
Latest release: 2.7.0.100 | Release date: 28/02/2020 | Size: 111.6 MB
License agreement | How to uninstall