The Style panel is the right area that enables you to define the newsletter style.
It features a multi-purpose area where you can:
Select a style from the list: Open the list in the combo box and select an existing style. The list can optionally be kept open while trying different styles by clicking the small pin icon at the bottom-right edge of the list (image 2).
Edit the list: Click the Save newsletter style button to save the current style or click the Delete newsletter style button to delete items from the list. Note that you can only delete custom styles, factory styles cannot be deleted.
Auto-select elements: The Select panel enables you to recursively select elements on the newsletter. Blocks, cells, images and buttons (image 1).
Edit elements: The Edit panel enables you to open the editor windows for the element currently selected (image 1).
Edit the current style: You can customize the current style by acting on the 10 style buttons displayed when the Edit global style panel is open (image 3).
The style panel

Keep the list open

Editing the style

Click to enlarge
As you can see in image 1 and 3 above, the Palette button and the Background button are always visible, enabling you to quickly change colors.
The Background button displays a color selection control that enables you to change the background color of the newsletter.
Background color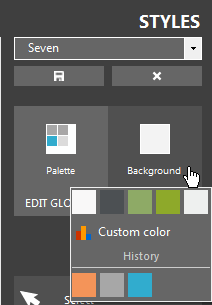 Click to enlarge
See also
Palette selection
Cell style
Font style
Image style
Button style
Saving styles
Deleting styles