The Open menu enables you to open a previously saved file for edit.
Click the Open menu to browse your computer or network for MailStyler's files. The default location for MailStyler's file is the MailStyler folder created during setup inside the user's Document folder.
Click one of the 10 most recent saved files in the list below to re-open a recently edited file. This list will show up to 10 files, excluding files that may have been deleted or move by the user.
Open menu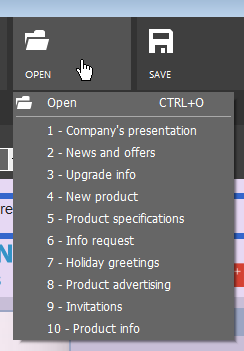 Click to enlarge