The Save menu enables you to save the newsletter being edited to disk.
Click the Save menu if the newsletter already exists on disk to save new changes to it. This item is disabled if the newsletter is new and has never been saved before.
Click the Save as menu to save the newsletter with a specific name and to a specific location.
Click the Save as default template to save the current newsletter as the default template that gets loaded when the application starts up and also when the user clicks the Create a blank template command.
Save menu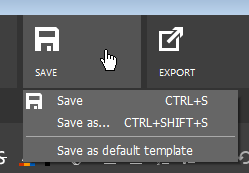 Click to enlarge