The Help menu contains the following items:
View help: Opens a browser window and navigates to this on-line guide.
Visit web site: Opens a browser window and navigates to MailStyler's web site, www.newslettercreator.com.
Show welcome screen: displays the Welcome screen.
Registration: Opens the Registration form to activate your copy of MailStyler.
Check for updates: checks for the availability of updates from the web site. In case a new update is found, you will be asked if you want to download and install the new update. This operation also takes place automatically when you start MailStyler.
Download full image library: If you activated MailStyler in Full mode, you were prompted to download the full image library. This menu is here in case you were not able to finish your download and you want to restart it.
Once the full library has been properly installed, this menu will no longer be visible.
About MailStyler: Displays a window with information about MailStyler, and the current version.
Help menu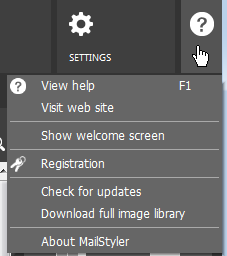 Click to enlarge