The Link command found on the toolbox enables you to add or remove links to web pages, e-mail addresses or even ftp sites.
Select the text you want to display as a link and click the Link button on the toolbox. The Link window will be displayed enabling you to define link properties:
Text: This is the text that will be displayed to the user and that will be shown as a Hyperlink. The actual aspect of the link (underline, text color, background color, etc) depends on the style in use.
Link: This field contains the URL of the link, that is the target of your link. May be a web page (such as https://www.newslettercreator.com), an email address (such as mailto:name@domain.tld) or an ftp site.
Title: This is an optional text displayed when the mouse hovers over the link. The link editing window.
Open link in a new window: This option can make hyperlinks in the newsletter open a new browser window when clicked.
The link editing window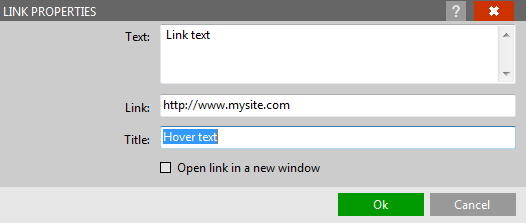 Click to enlarge
If you want to remove a link, place the cursor over the text, click the Link button, clear the Link field and click Ok.
See also
Toolboxes
Text tools panel
Button tools panel
Soacial set toolbox
Cell tools panel
Block tools panel
Image tools panel