MailStyler libraries contain the necessary elements to build the template: blocks, text, images, buttons, and social sets.
There is a specific library for each type of element. The content of each library is viewable via the following buttons:
Show blocks
Show texts
Show images
Show buttons
Show social sets
Library panel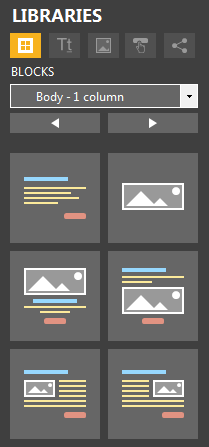 Click to enlarge
Libraries selection

Click to enlarge
Libraries are organized in categories selectable by a drop-down menu.
Blocks categories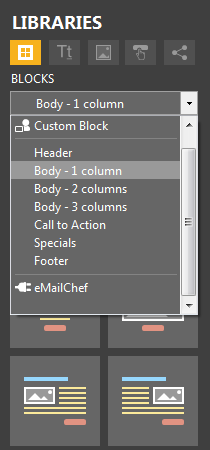 Click to enlarge
You can scroll through the categories by clicking on the drop down menu or clicking the left/right arrows.
Libraries, with the exception of blocks, contain a category called 'Samples' within which you can find some pre-constructed elements for immediate use.
All edited items can also be saved within libraries, allowing you to quickly retrieve text, images, buttons, and social sets frequently used. You can also create new categories to better organize your content. See how to save items in libraries.
All elements contained in libraries can be dragged within the edit area to easily build the desired newsletter layout.
The block library is especially important, because the blocks are the basis for building the layout of your newsletter.
The blocks in the list are the most common types currently used in newsletters.
Each block can be further customized by adding columns, and cells: see Block selection and editing or more information.
Hover over each block to get a quick preview of the block. Take into account that the final result. Take into account that the final result will depend on the style that is currently in use, since every time that you add a new block this takes on the style you are using at that time.
Blocks library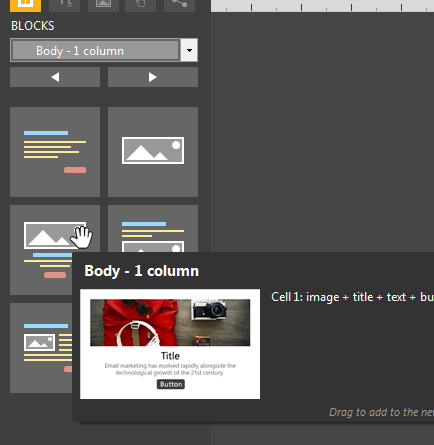 Click to enlarge
Once you choose the block, select it and drag it into the body of the newsletter. A horizontal line will indicate the point at which the block will be entered.
See also
Manage libraries