The Create New menu enables to create a new template.
The menu Load default template creates a new newsletter, by loading the default template. The default template can be customized by using the Save as default template command.
The menu Create a blank template empties all contents to enable you to create a new newsletter from scratch.
When you select Upload the default eMailChef template, you will upload a template whit a special footer; this contains placeholders that will automatically be replaced with information already present in eMailChef (such as your company name and address). You will not have to enter these data manually into the template.
New menu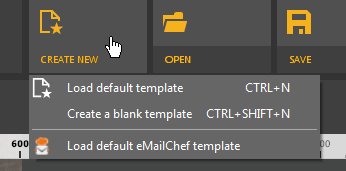 Click to enlarge