Double-click on a social set to edit its style. The Social Set Properties window will open.
Social set properties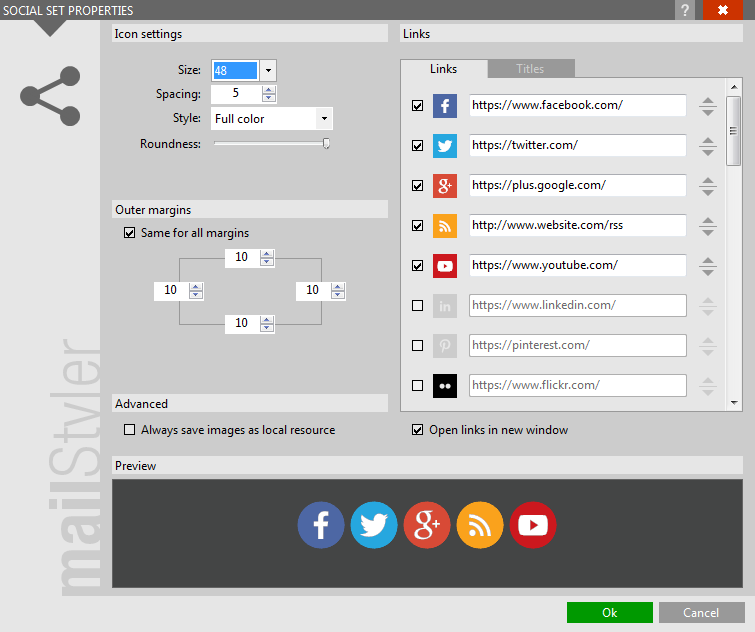 Click to enlarge
The top-left section named Icon settings lets you define the main features of the icons that are part of the social set.
The result of each change made to the social set is immediately displayed within the Preview panel:
Size: the size of the icon in pixels. The same size is applied both to the width and to the height.
Spacing: is the distance in pixels that separates each icon.
Style: the icons included in the social set can keep their original color by selecting the option "Full color". Instead, by selecting "Monochrome" all icons take on the same color. You can choose it from the palette of colors used at that time, customize it, or select it from among those used recently. If you are not sure about your choice, you can go back to the default one.
Roundness: the value indicates the degree of rounding corners. Moving the cursor to the right you will get increasingly rounded corners until obtaining a round icon.
By right-clicking on one of the listed icons, you can also load one to use instead of the standard one.
The section Outer margins lets you define spaces between the social set and the elements around it (such as text, buttons, or images).
The option Same for all margins identically alters the pixel value right, left, above, or below the button.
The Links section is divided into two tabs: Links and Titles.
The Link tab shows a list of the most popular social sites and their related URL. Select the social boxes you want to include in the set. You can then edit the order in which social icons will appear in the newsletter through the Up and Down arrows to the right of the URL addresses.
The Titles tab lets you edit the name of the social that appears when hovering over the icon.
Open link in a new window: if checked, a click on the social icon will allow its related social to open in another window of the browser, thus avoiding closing the window containing the text of the e-mail.
Always saves images as local resource lets you save social set icons locally, even if export options involve image saving in the cloud.
See also
Main window
Editing images